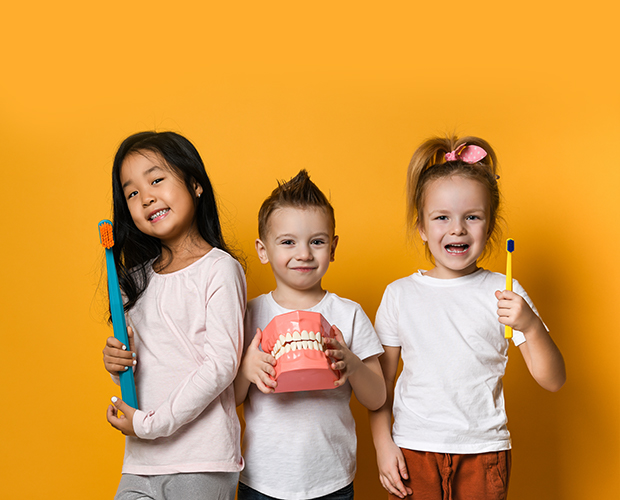 Kids Dentist
Middletown, NY
Are you getting ready to take your child to a kids dentist? There are some important factors you should know. With some preparation, both you and your child can have a positive experience. Younger patients can feel some nerves leading up to a checkup or treatment. You can have peace of mind to know that our staff has the knowledge, training and experience to meet your child's oral health needs.
A typical wellness examination or visit for restorative care does not have to be scary. Our dentist and staff know what techniques to use to achieve the outcome you and your child are looking for. We can also help calm and reassure your child before any procedure. We want to establish a pattern where our young patients look forward to getting regular dental care.
Call us today so you can make your child's next appointment for a cleaning or treatment.
Start early, go often
There is no need for parents to wait to go to a kids dentist until the child has permanent teeth. For most children, the first teeth emerge around six to eight months of age. Six months after this time is the ideal occasion for the first dental appointment. From this point, the child should come into the office every six months. This pattern should continue throughout childhood and for the rest of the patient's life.
The first appointment to the kids dentist
A 1-year-old child will have a much different appointment than an older child. At this age, the dentist wants to look at the young patient's teeth, jaws and bite. The dentist may carefully clean plaque or stains off the child's teeth. Other parts of the initial appointment will include:
The staff will identify any tooth decay due to bottle-feeding
The dentist and parents will talk about proper teeth cleaning for the baby
The parents have the chance to ask questions and discuss any concerns they may have
Subsequent visits
As the child grows, the kids dentist will follow-up on previous appointments. This will include reviewing how well the parents are doing with tooth and gum care for the child. The dentist will determine whether any conditions are getting worse or spreading. By the time the child is around age 4 or 5, the dentist may begin taking X-rays to reveal cavities. Kids at this age should be able to sit on their own, though pediatric dentists will usually allow parents to remain in the examination room.
Caring for young mouths
Before a baby even has teeth, parents should take a damp cloth and wipe the gums after each feeding. When teeth begin to emerge, parents should not use too much toothpaste on the toothbrush. By age 3 or 4, children can use a pea-size amount on a soft-bristled brush. Parents should also help young children learn to floss. At early dental appointments, the hygienist may gently polish and clean the teeth.
Wellness checkups for older kids
Once the child has most or all of their primary teeth, the kids dentist will expand the examinations. The hygienist will start to take X-rays at every appointment. Also, the dentist may use fluoride treatments either with mouthwash or trays. The dentist will more thoroughly examine the child's teeth and gums. Around age 7, the dentist will start to talk to the parents about seeking orthodontic care, especially if the patient has bite problems or misaligned teeth.
Filling cavities
Tooth decay is common among children. This happens often with toddlers who take bottles to bed or with older children who consume too much sugar. For minor or moderate cavities, the kids dentist will use a filling. The dentist will first numb the child's mouth to reduce pain and discomfort. Next, the dentist drills into the affected tooth and removes the decay. The dentist will also disinfect the tooth to kill any remaining bacteria, followed by putting in a composite resin or ceramic filling.
Addressing significant decay and infections
When a cavity is too large for a filling to support, the kids dentist will do a root canal. The dentist will also use this method to repair an abscessed tooth. This occurs when there is an infection in the tooth's pulp. The dentist drills into the tooth, removes the pulp and kills the infection. Often, the dentist will cover the tooth with a crown to prevent further damage.
Taking care of fractures and cracks
It is not uncommon for children to break or chip teeth. This can occur from hard blows to the mouth in sports or other activities. A child could fracture a tooth by biting into something hard. For permanent teeth, the dentist may use a crown to protect them. If a baby tooth breaks, the dentist and parents may prefer to extract it.
Advantages of going to a pediatric dental office
One of the benefits of choosing a kids dentist over a general dentist is that children get focused care. Pediatric dentists have two or three years of additional training beyond the four years of dental school. These dentists learn skills and have hands-on training to help with issues specific to younger patients. The pediatric dentist also understands effective techniques to work with emotional patients.
Helping nervous children
Going to the kids dentist can be scary for young patients. To reduce worries and anxiety, parents can reassure the child that the dentist will help them feel well. The dentist knows how to communicate well with kids and is equipped to handle those children who cry, cling to parents or refuse to open their mouth.
Start today and keep going
Visiting the kids dentist is not something you should put off or set aside until your child is older. It is important for your team to evaluate your child's teeth and gums. With regular visits, your child can stay on top of oral health matters. Call our office today and make an appointment for your child's wellness checkup. You can feel good knowing our team has your child's well-being in mind.
Hudson Valley Pediatric Dentistry is located at 75 Crystal Run Rd Suite 235 Middletown, NY 10941.
Recent Posts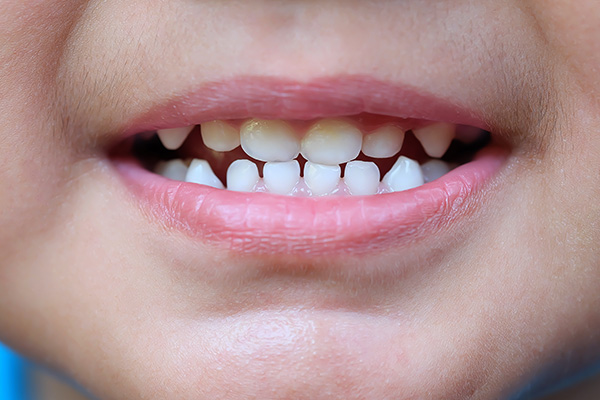 Two of the most common pediatric dental treatments for cavities are fillings and crowns. Both dental fillings and dental crowns offer unique benefits, but one may be preferable to another depending on the specifics of the cavity needing treatment. This review discusses why a pediatric dental professional opts for either a filling or a crown.…